Family Owned & Operated Since 1950
Four Generations of knowledge and experience.
We Are
Bunch Roofing
Locally owned and family operated, we specialize in all aspects of roofing in Greenville, while also doing some siding work. Our licensed, professional roofers will work quickly, efficiently, and with minimal disruption to your home life or business. Our roofers are well trained in every aspect relating to the roofing process in order to meet customers expectations at every facet of the roof repair. We believe in delivering quality services of roof repair to our customers so that we can build long-term relations with them. Client satisfaction is our primary motive and we are highly committed to the roofing services that we offer. Call our experts today and have your roof fixed in the smallest possible time and lowest possible cost, without compromising on quality.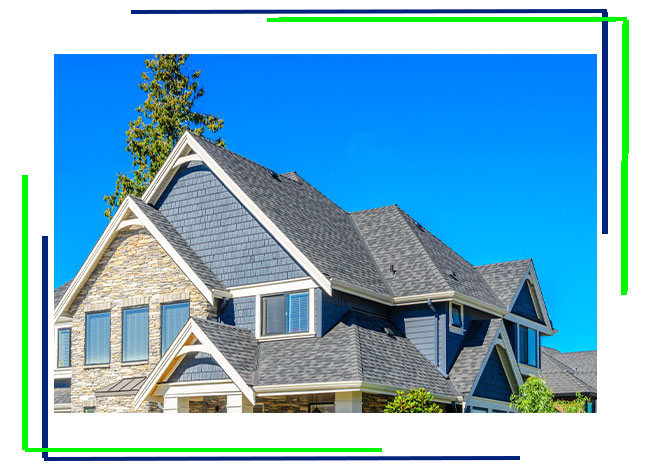 Roofing & Exteriors Done Right
We stand for quality, and we approach each contract with that mindset. With years of experience under our belt, our team can assess a roof and determine what the best course of action is for your home. In some cases, a few shingles will need to be replaced. However, in other cases, the entire roof will need to be replaced.
home
Residential Roofing
Your home's roof is designed not only to look good, but also to protect your home from the elements. You can trust the dedicated team at Bunch Roofing to install, replace, or repair your roof.
The main brand we use is GAF Shingles.
roofing
Metal Roofing
Metal roofs give any property a sleek, modern look with long-lasting strength and durability. Bunch Roofing offers the best metal roof installations at the most competent rates.
The main brand we use is Mansea Metals.
business
Silicone Roof Coatings
For commercial roofs, silicone roof coatings can restore their strength. Additionally, it increases your building's energy-efficiency and waterproofs your roof to stop leaks.
The main brand we use is GE Enduris.
house_siding
Siding
In addition to roofing, our professionals are also trained to install and replace your home's siding for a striking exterior that will increase your home's curb appeal and market value.
The main brand we use is Mastic Siding.
We are
GAF Certified

Contractors

When you hire a GAF Certified Residential Roofing Contractor, you have access to lifetime limited warranties with the best coverage in North America. With only 7% of roofers being GAF Certified contractors, we meet a professional standard of excellence and are up to date with the latest technologies.
Leave Us A Review!
star star star star star
Recently Received Roofing Services by Bunch Roofing?
Tell us how we did by leaving us a review on our reviews page.
Why Choose Bunch Roofing?
Our quality service will ensure that you can relax and have peace of mind while we deliver the most cost-effective solutions for your roof repair. So if roof repair is your agenda then you are at the right destination. We happily provide quality roofing, re-roofing, renovations, and roof maintenance services, as well as exterior siding services. Our efficiency, commitment to work, and cost-effective solutions make us a leading roof repair service company in Greenville. Our team consists of efficient and experienced workers. We deliver quality service in whatever we do. So if you are residing in Greenville or nearby areas, then contact us . . . the most trusted name in roof repair in Greenville, OH.
bolt

Fast, Reliable, Proficient

support_agent

Excellent Customer Service

handyman

Top Quality, Durable Materials
History Of Bunch Roofing
1st

Generation

Bunch Roofing has been the leading roofing contractor in the West Central Ohio and Eastern Indiana area since we began our journey in 1950. Our founder, Jim E. Bunch, set the pace for the company with leadership and a desire to give homeowners the best quality roofing contractor available. Jim and his wife, Carol, were the parents of five children: James, Barbara, Jerry, Rose, and Mike.

2nd

Generation

As of 1980, Jerry A. Bunch became the proud new owner of Bunch Roofing and continued to strive in the community. Jerry and his wife, Deborah, continued this legacy and continued to meet client's expectations of quality, value, and service. Jerry and Deborah had two children, Jerry Jr and Leslie, and began to teach them the values of the company, just as his father did back in 1950.

3rd

Generation

After many dedicated years, Jerry decided it was time to finally start slowing down and handed the torch down to his son. As of 2022, Jerry E. Bunch Jr became the new president of Bunch Roofing and saw opportunities to grow in the field. Jerry Jr and his wife, Kimberly, currently own and operate Bunch Roofing as it has been family owned and operated for over 73 years. Jerry Jr and Kimberly are the parents of five children: Reece, Abby, Foster, Jeremiah, and Rebekah; as they continue to teach them about business and how to keep expanding as we have over 3 generations and prepare for the future 4th generation.
Attention
Active Military, Veterans, & Retirees
GAF, a U.S.-based corporation, is giving back to our troops. U.S. Military Troops get a $250 Rebate when they install a GAF roofing system on their home and purchase an Enhanced Warranty.